The filter inside the air filter cover is the part to shut out dusts or dregs. Do not use the projector with the filter taken off. We recommend you clean the air filter frequently. (The cleaning period is once per 50 hours approximately).
1.
Unplug the power cord.
2
Take off the front cover.
Slide the front cover rightward side for about 3 mm, then the front cover can be taken off toward you.

3.
Detach the air filter.
Take off the filter frame by pulling the middle part of it toward you, then detach the air filter.
4.
Clean the air filter.
Use a vacuum cleaner to carefully remove any dust and dirt from the front cover, air filter and filter frame. Be careful that the air filter is not sucked into the vacuum cleaner.
CAUTION
If you use the projector mounted on the ceiling, ask the dealer to carry out the maintenance such as cleaning.
5.
Mount the air filter and the filter frame.
Place the air filter in the projector, then insert the four tabs on the filter frame into the holes in the projector.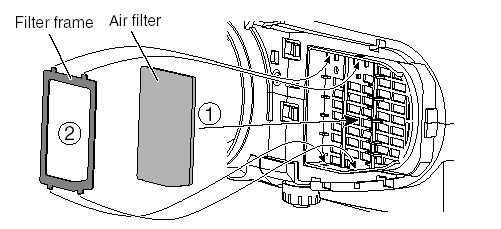 6.
Mount the front cover.
Insert the hooks of the front cover into the projector first, then slide it to the lens side to fix it.

Notes
When the air filter is dusty, the ventilation is impaired. This causes the temperature inside the projector to rise, and may damage the unit.
Attach the air filter and the filter frame firmly after the cleaning. If it is not set correctly, the dusts will enter and they will be projected and overlapped on the picture.
If you wash the air filter with water, be sure to let it dry fully before reinstalling it. Using it damp will result in malfunction.
If the air filter is damaged, contact your store of purchase and replace it with a new one. Using a damaged air filter will cause dust or dirt to get inside the projector and onto the images.