These pages will help you to use PrintMusic! 2000 in a number of composing activities. No prior knowledge of musical notation is required as the activities are based on aural perception and pattern recognition. Those pupils who have musical experience will also gain from these examples by composing for a purpose.
If you have followed the notes on using Notate (available for the RiscOS platform), you will be familiar with some of these examples. However, PrintMusic has quite a number of different features, not the least of which is having to start composing music by creating the instruments for which you wish to write. So, let's start from the very beginning (a very good place to start!).
Getting started with PrintMusic! 2000
When first run, PrintMusic will take you through some steps to help you to create your score. The main points are to enter the Title and Composer's name, the size of the page (A4) and the names of the instruments you want to use.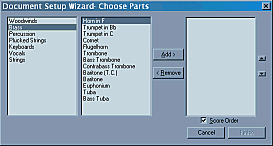 Most of the standard orchestral/band instruments are available, listed by family (Woodwind, Brass, Strings etc.). A stave will be created for each instrument you Select and then Add>; note that two staves will be created for those instruments which normally require them, for instance Piano and other keyboards and Harp. The score will arrange the staves in standard orchestral score order. Should you want instruments in a different order, untick the Score Order box and use the up/down arrows to change the order of the instruments. Selecting Finish will display an A4 page with your chosen instruments. You do not have to set up any sounds to go with the staves as PrintMusic assigns the correct sound to each of your chosen instruments (although you can change the sounds and stave names should you want to).
For the first few activities, choose an instrument which uses a single stave in the treble clef, i.e. a high sounding instrument such as a flute, oboe, violin, soprano or alto.